Want to Get More Involved in Women in HVACR? Be a Mentor!
BY KAREN LAMY DESOUSA | 1 JUNE 2018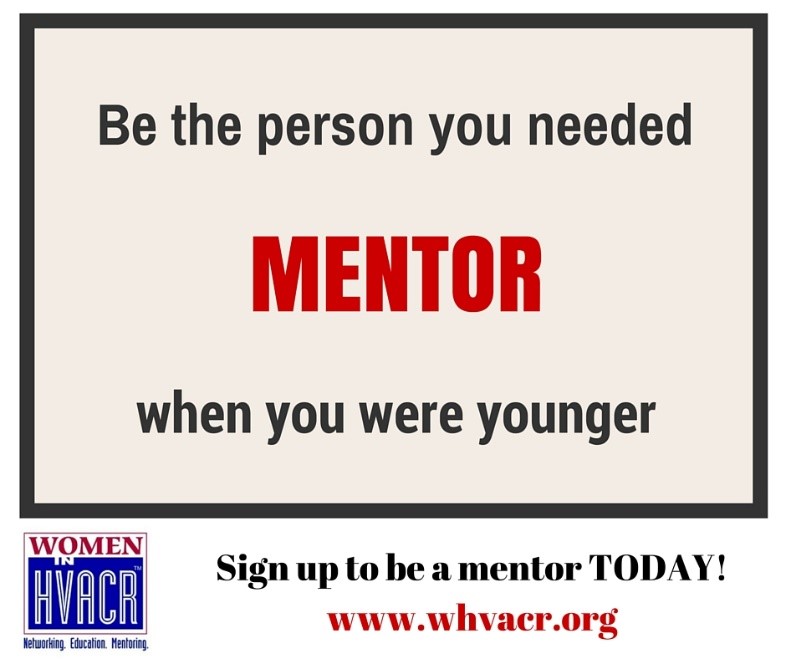 Want to Get More Involved in Women in HVACR? Be a Mentor!
The WHVACR Mentorship program has grown to nearly 20 mentor matchesin its second year! So much interest in this program has made it hard to keep up with the demand for mentors. If you are a woman (or man) in the industry who is willing to take just an hour of time each month to talk to another woman to help her build her career in HVACR, we need you!
Here are a few of the current applicants who are currently seeking mentors:
A Marketing Manager from North Carolina is seeking a mentor to help her understand how best to connect with wholesalers, create powerful campaigns that target them, and understand the industry better. Her favorite things are hanging out with friends, tea and outdoor activities. She'd prefer her mentor be a wholesaler, if possible. Be her Mentor!
An Owner/CEO of an HVAC contracting firm in Missouri is seeking a mentor to help her grow her business and be able to share success with others. Her favorite things are public speaking, writing and storytelling. She is seeking a mentor who understands Dave Ramsey and the debt snowball. She has strong family connections and struggles with balancing life and work. She is alsoa woman of faith whowould like to be connected with someone that understands her passion for religion. Be her Mentor!
A preventive maintenance technician in Ohio working primarily on refrigeration is seeking a mentor to help kick start her career. Be her Mentor!
Signing up is easy. Just click on the Be her Mentor! link and provide your contact information. If you are interested in mentoring one of the women listed above, please include her name in the notes section. If you do not provide the name, the WHVACR Mentorship committee will match you with one of these women, or one of the many new applicants we get every month.
Whether you've had five years in the industry or forty, you have something to offer. Your valuable experience, advice and knowledge could help build the career of another woman in the field. Sign up TODAY to do your part so support women in the HVACR industry!