Reflections from Some First-time Conference Attendees
BY DENISE, LAUREN, & RACHEL | OCT 2018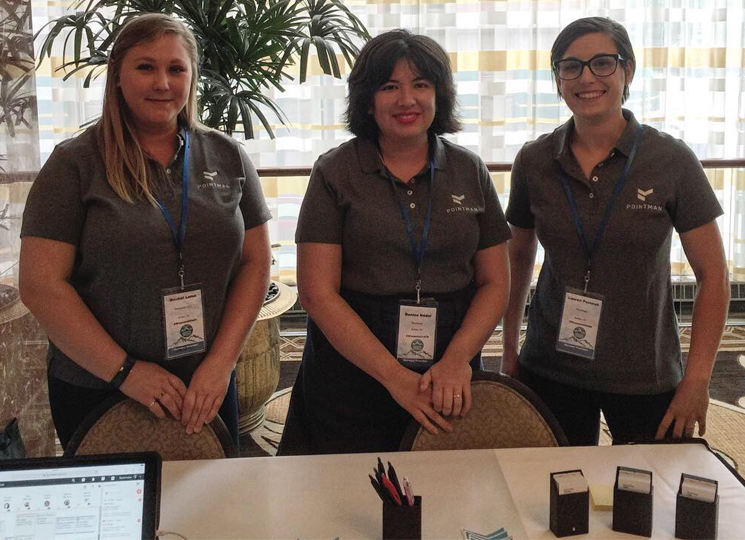 Reflections from Some First-time Conference Attendees
Pointman became a WHVACR gold sponsor this past summer. We've called into some Zoom Meetings, but as we headed into this Conference we were unsure of what to expect. Our connections with women in the industry were limited to our customers and other women in our organization. We were eager to jump in and grow as individuals and we're excited to share what we took away from the experience.
Looking back, it was eye-opening to see women from every facet of the industry. As it turns out, our impression of how all the working parts come together within the industry was pretty limited. We met sheet metal providers, distributors, manufacturers, marketing professionals, business coaches, and so many more women who are HVACR professionals. This broad range of women gave us a better understanding of the depth and reach of the HVACR industry. As each woman we met talked about her company and position, we gained greater insight into how the industry all comes together. We saw, first hand, the teamwork and support Women in HVACR provides women in all areas of the industry.
The women we met were both empowering and humble. They were eager to share their stories, have a good time, and build relationships with fellow women. The field trips were great opportunities to get to know everyone even better. Pointman had women attend both field trips, allowing the connections we made earlier in the Conference to flourish. With this type of atmosphere, we were all able to connect and bond with other WHVACR members in a relaxed and new way.
All women, in the HVACR industry or not, face struggles working in a male-dominated fields. We all know what it's like to experience both casual and overt sexism; hearing other women's stories about what they've experienced and how they've handled situations in the past was validating and enlightening. By sharing our experiences and trusting each other with our vulnerabilities we gained strength and insight and we developed supportive friendships. We walked away from the conference with so much knowledge, empowerment, and new friendships.
We wish to extend huge thanks to WHVACR for including us in this great experience. Until next year!
The Pointwomen from Pointman,
Denise, Lauren, & Rachel