Supporting the Legacy of Women in HVACR
BY PATTI ELLINGSON | OCT 2018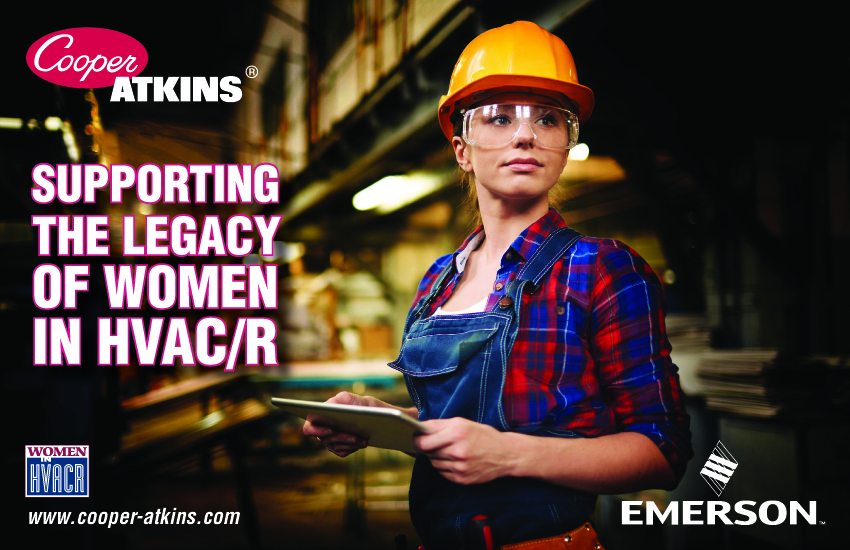 Cooper-Atkins, acquired by Emerson in early 2018, is a longtime technology leader serving the Industrial & Food processing markets. Cooper-Atkins has comprehensive offerings of temperature management and monitoring products for spot inspection and fixed location uses, including restaurants, supermarkets and other facilities where food is handled, prepared and stored.
Since its establishment in 1885, Cooper-Atkins has built a 130-year, rock-solid reputation providing quality environmental monitoring solutions to top brands and our proven track record speaks for itself.
Cooper-Atkins is a strong complement to Emerson's global foodservice business, which includes the ProAct™ Services portfolio. In addition, Emerson's market-leading controls connected solutions and Copeland™ compressors optimize energy consumption and operational performance in the assets powering many of today's global supermarket chains, restaurant franchises and refrigerated shipping operations.
The added expertise from Cooper-Atkins significantly extends Emerson's global capabilities in monitoring facilities across the industrial and food processing landscape especially those involved with food, its preparation and other high-value shipments throughout the entire supply chain.
As a company that supports the Women in HVACR Organization, Patti Ellingson, Cooper- Atkins Director of HVAC/R Sales – North America, is a past president of WHVACR but still serves on the board in an advisory capacity. Women in HVACR, http://www.womeninhvacr.org/ is the premier organization for women in the HVACR industry, intent on providing multiple avenues for women to connect and grow, both professionally and personally. "To be a Women in HVACR there are still stereotype challenges that we face on a day to day basis that our counter parts do not always face. However, through knowledge and determination, tact and implementation we overcome these every time. Women have a natural instinct to multi task and problem solve that comes with ease. By tapping into this skill women are able to be successful in all aspects of HVACR whatever your position."
Cooper-Atkins is a part of the community, which also helps the company attract good employees, and is involved with the Chamber of Commerce and local charities, such as the United Way, community health charities, etc. Employees also reach out to high schools to get the Cooper-Atkins brand out there. Emerson's like-minded, employee-centric values align closely with our core values and make the acquisition a great fit on both a business and a human level.
In today's rapidly changing world, we continue to expand our technological capabilities to support and protect brand integrity by providing the right tools that ensure consistent food quality and safety across all our business units.