Women in HVAC: What we're doing and why it matters
With Women's History Month and International Women's Day both in March, it was the perfect time for companies like ours to reflect on what we're doing to inspire and encourage women in HVAC — and what more could be done.
In 2017, women made up only 1.4 percent of the HVAC industry.[1] Yet the global HVAC market is forecast to grow at a CAGR of 4.9 percent from 2017 to 2022 and projected to reach more than $120 billion by the year 2022.[2]. That growth is important as the HVAC industry and its technological improvements are key to improving energy efficiency and reducing greenhouse gas emissions. Encouraging women to enter HVAC can help address the hurdle of growth and one of the biggest challenges our industry faces — the labor shortage.
Trane®, a leading global provider of indoor comfort solutions and services and a brand of Ingersoll Rand, has implemented several programs to help women succeed in a career in the industry through the following initiatives: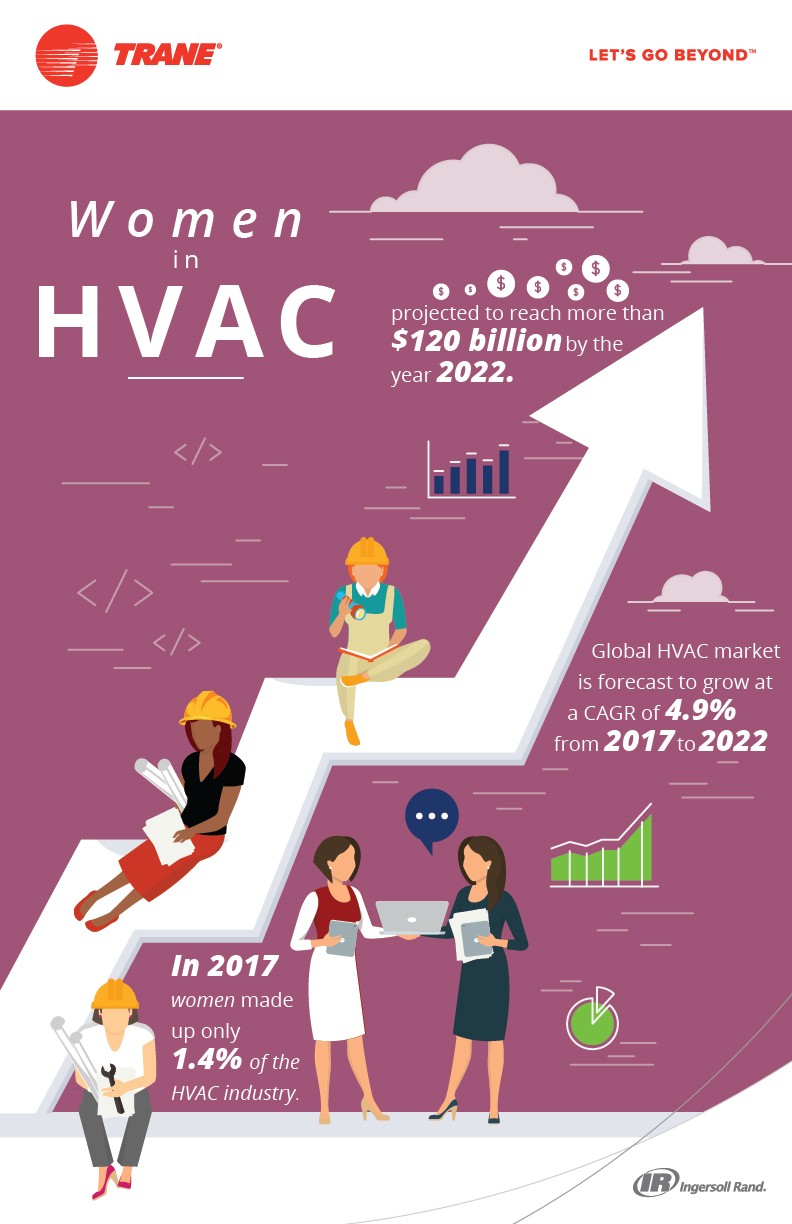 Paradigm for Parity is a coalition that we recently joined, pledging our commitment to bring gender parity to our global corporate leadership structure by 2030. Nearly 40 companies have joined the program since it launched in 2017. Ingersoll Rand is the first of its peer group to do so.
Specific to the industry, Trane and Ingersoll Rand are Women in HVACR sponsors, an organization that helps women get into the industry by providing support, mentorship, scholarships and professional avenues to connect with other women growing their careers. These types of initiatives aid in our commitment to developing progressive, diverse and inclusive workplaces and relationships.
Women like Donna Bossman, director of Ingersoll Rand's Materials and Chemistry Network of Excellence, and Laura Rygielski, district general manager at Trane, are great examples for how women help inspire and advance our industry.
Donna had an early call to engineering and now supervises 35 engineers and technical staff. She is widely recognized within the company as a go-to leader on complicated technical issues. While at Ingersoll Rand, she worked to charter the Women's Employee Network.
Laura, the leader of a 300+ member team, believes it's important to be courageous and realize that a career path does not need to follow a prescription or predetermined route. She encourages others to focus on always learning, get comfortable being uncomfortable, taking chances, serving others and being authentic.
As we look to the future and determine how we can ensure the HVAC industry grows with the inclusion of more women, we started a mentorship program within our company and are looking to expand that beyond our walls with initiatives like the Women in HVACR mentorship program.
By inspiring women to pursue a career in HVAC early and better involving them throughout their careers — through the support of the great organizations listed above — we can advance the entire industry. It's something we believe strongly in, and we will continue to unabashedly support.
[1] Bureau of Labor Statistics. Labor Force Statistics from the Current Population Survey. https://www.bls.gov/cps/cpsaat11.htm. Accessed March 30, 2018.
[2] Research and Markets. Research and Markets - Global HVAC Equipment Market Growth Opportunities Report 2017: Gree Electric Appliances, GD Midea, Daikin Industries, Ingersoll Rand and UTC Look to Capitalise on the $120 Billion Market. https://www.prnewswire.com/news-releases/research-and-markets---global-hvac-equipment-market-growth-opportunities-report-2017-gree-electric-appliances-gd-midea-daikin-industries-ingersoll-rand-and-utc-look-to-capitalise-on-the-120-billion-market-300464022.html. Accessed March 30, 2018.