Women in HVACR exists to improve the lives of our members by providing professional avenues to connect with other women growing their careers in the HVACR industry. We empower women to succeed through networking opportunities, mentoring and education.
Our Vision
Women in HVACR will be recognized as the premier organization for women in the HVACR industry, intent on providing multiple avenues for women to connect and grow, both professionally and personally.
Achievement Through Teamwork
Our
Board of Directors
, members and
sponsors
from all aspects of the industry work together to identify resources and networking opportunities. By assigning committees with specific goals, we're able to achieve greater results and provide a wider range of support for our members.
We are strong because of the time and effort put in by those willing to lead and share their knowledge with others. Our members are invited to contribute their expertise or ideas to one or more of our committees.
---
Education & Outreach Committee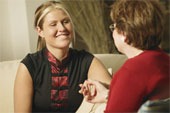 This committee focuses on the ongoing development of the Mentoring Program, which connects two people with similar goals and encourages them to build a relationship that will facilitate personal and/or business growth. It also manages the Outreach Program that works with primary and secondary educational facilities to develop an awareness of the careers available in the HVAC industry and is working toward the creation of a Scholarship Program designed to foster financial support and encouragement for young women considering careers in the HVACR industry.
---
Marketing Committee
This committee works in conjunction with all other committees to promote our organization to the press and partner communication directors. They create marketing materials for press opportunities, Act as Editor of the WHVACR Newsletter, create marketing materials for the annual conference, education opportunities offered via HVACChannel.tv, Education2Go and other programs and services.


---
Website & Social Media- Sub Committee
This committee works on keeping our members up to date through social media- Facebook, Linked In & Twitter.
---
Membership Committee
Members of this committee are WHVACR's ambassadors, sharing our message and recruiting members. They work with the Marketing and Programs & Events committees to participate in trade events and spread the word through trade publications. This group also manages WHVACR's day-to-day membership recordkeeping.
---
Partnership Development Committee
This committee works with existing association partners and develops relationships with new partners with the goal of furthering WHVACR's reach within the industry. Their activities include: establishing cross-marketing efforts, securing and managing sponsorships, and recruiting members to staff WHVACR's booth at various trade functions.
---
Programs & Events Committee/Conference Committee
This committee coordinates the arrangements for WHVACR's Annual Conference, working with the other committees to ensure all the details come together for a successful event! Members of this committee also develop and implement programs and events for WHVACR members, including networking events, educational programs and webinars. They select speakers for WHVACR's Annual Conference and identify speakers for the HVACChannel.tv education series.
---
How can I get involved?
If you're interested in supporting one or more committees, or in learning more about the programs offered, please let us know.
By Mail
---
Women in HVACR
16841 S. 11th Way
Phoenix, AZ 85048