We are all made of mostly the same stuff, yet each of us has a unique set of gifts and talents that help us to fulfill our special pourpose and contribution. Some of us find our talents early in life in the more obvious ways, as an athlete, academicly, as a dancer, musician, or artist. And, while one of these may come more easily to you, another woman's ease in communicating her feelings, for instance, may be more difficult for you. Others may bloom later and find that their gifts are less flamboyant; they may be great in supporting people through excellent listening skills, or they may be a fantastic team player, or a creative entrepreneur, or writer. You may realize that you are a gifted mother, wife, and houshold manager.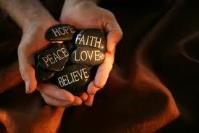 Are our unique gifts those talents we are naturally good at, or are they the things we love to do? Perhaps it's a little of both, but the gifts that come from our passion, and the love in our hearts, are the ones that are ultimately the most powerful!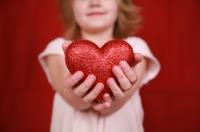 Giving a gift that we all have access to- the gift of love- is perhaps the most magnificent of all. Love reveals itself in many forms. When you give in a service-oriented way- where you receive nothing extrinsic such as payment, credit or acclaim- then you also receive a gift in the giving; the joy that comes from the satisfaction of making a loving contribution.